GEN II Neolight
SUSTAINABLE LIGHTING TECHNOLOGY
INFRASTRUCTURE ENGINEERING SOLUTION
---
GENII new INFRASTURCTURE lighting standard
LAMPS OPERATING IN QUANTUM MODE
REDUCE CARBON EMMISSIONS
KWH COST 97%
Energy Star Sustainable Building Technology
22nd Century Building technology

MALL, CASINO, OFFICE, STORE, COMMERCIAL WORK AREA, INSIDE STRUCTURES. NEW AND IMPROVED.
GENII products conserve energy, kwh and cost. True RMS waste energy is recovered to power lights. A modern low-voltage system. Government policy initiatives to improve energy efficiency for home and bussines with, sustainable, green products can become affordable. Although lighting is a small sector, fixed cost to illuminate buildings can now be reduced considerably. Features: Federal building code approved. Adjustable light levels for all settings.
This refit technology prevents Mercury contamination, reduces carbon emissions, improves energy efficiency cost with low cost to install. Quantum mode energy benefits exceede all classic mode products. PC based Smart meter permits remote monitoring and precise accountability for KWH savings, CO2 emissions and Therms.

VIDEO PRESENTATION
GENII PROPOSAL HOW GENII Neolight improves fixed commercial lighting costs.

The material presented on this page is intended for commercial use and is protected by USS patent, copyright and trademark law. Copying, distribution and any other use is prohibited with out prior written consent.
GENII PROJECT commercial concept 2,500 Sq. Ft. store
INSTALLATION AVAILABLE IN PHOENIX AREA
VENDORS, DISTRIBUTORS,
MANUFACTURING, LOCAL CONTRACTORS, INSTALLERS, ELECTRICIANS
government contractors, facility managers, commercial business owners
EMAIL FOR installer agreement
CONTACT sales@rcdresearch.com
---
NEW GREEN PRODUCT
Inovative use of true RMS residual EMF
Electronic Power System is 99% energy efficient
Reduced Thermal WASTE
Extended mtbf hours GENII lamp
Power use is 2.3 watts, light output equivalent to a 60 watt lamp @ 800 lumens
Reduces KWH rate for complex lighting tasks
Wattage is 50% less than LED's and 75% of CFL's
Lumens Per Watt EXCEEDS LED AND CFL LAMPS
LIGHTING INDOOR-OUTDOR
REPLACES ANY MEDIUM BASE LIGHT
Hazmat free materials prevent Mercury contamination
Complies with National Electrical code for Low voltage systems
Fits A19 lamps socket
GEN2 MICRO GRID replaces flourescent products
Mall illumination, office, store, casino, factory floor lights,wherehouse, parking garage, entrance ways, string lights and signs
Wide Area illumination
---
GEN II SMART METER OPERATION MANUAL
State of the art Smart Meter
REAL TIME monitoring of lighting cost
USB interfaceWorld class hardware and software
Remote desktop operates on android phones
Computes Watts and KWH per second
Data log KWH, carbon rate, and fintech
Windows 10
Graphic display
High resolution A/D converter
Measures all system parameters
Graphic Analyzer waveform
---
HYPER DRIVE Electronic Power Source 100 amp to 2,000amp
Patented Electrodynamic cycle
High CDA angle improves electric efficiency
Eliminates 85% AC phase
Duty cycle atenuates Inafred energy waste
Heavy duty electronics
Prolonges life lamps up to 5,000 hours
Low cost electronics and lamp
Solid state Hyperdrive design has unlimited life
Microgrid and smart meter technology IOT ready
---
Neolight Smart Meter software library
This material is made available free to try in the interests of new partners training, improving energy efficiency where ever possible. For personal use only. Commercial use requires license, contact us for information.
ASHRAE 90.1 tool estimates Neolight performance
Base line efficiency gain and cost calculations.
---
These programs are required to run the demos. Please take the time to install the National Instrument environment and all updates..
National Instruments nidaq NIDAQ downloader
GENII M100 SMART METER. m100pack
CARBON PROFILE ANALYZER SIMULATOR ONE AND TWO
free to try GEN II Estimator tool Computes AC load, GENII Carbon footprint and monthly/yearly KWH rates.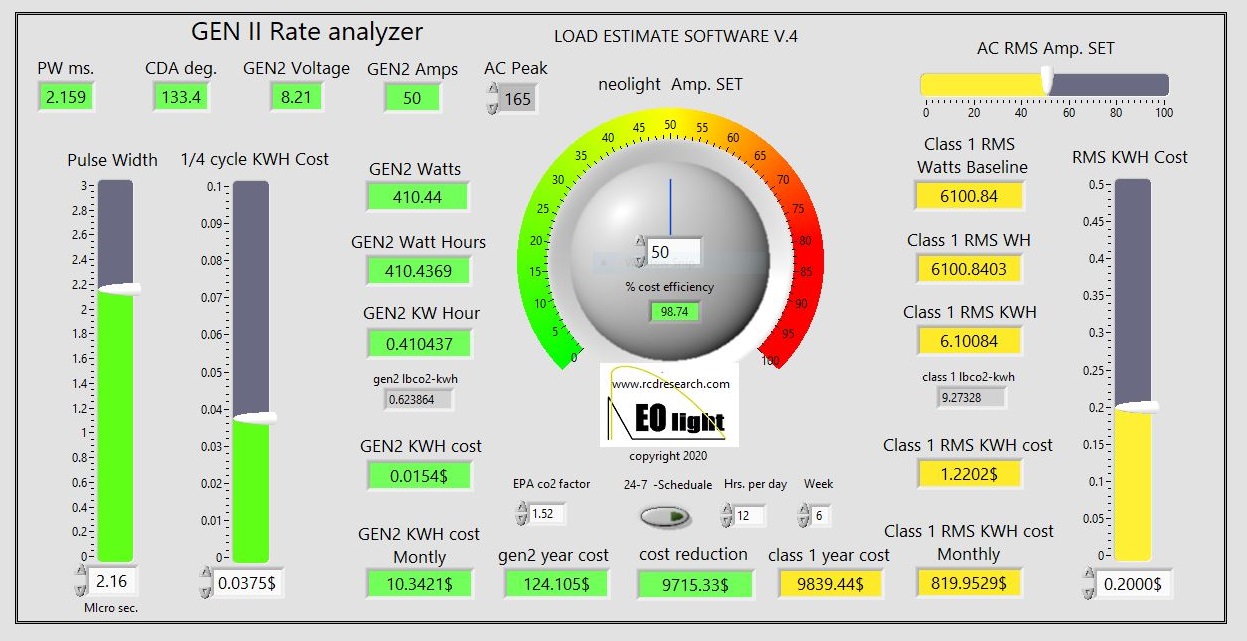 mailto:TECHSUPPORT@RCDRESEARCH.COM
---
GEN II AC RMS software tool Computes KWH, carbon and lighting cost per year, CLASS 1 AC ONLY
click on immage to download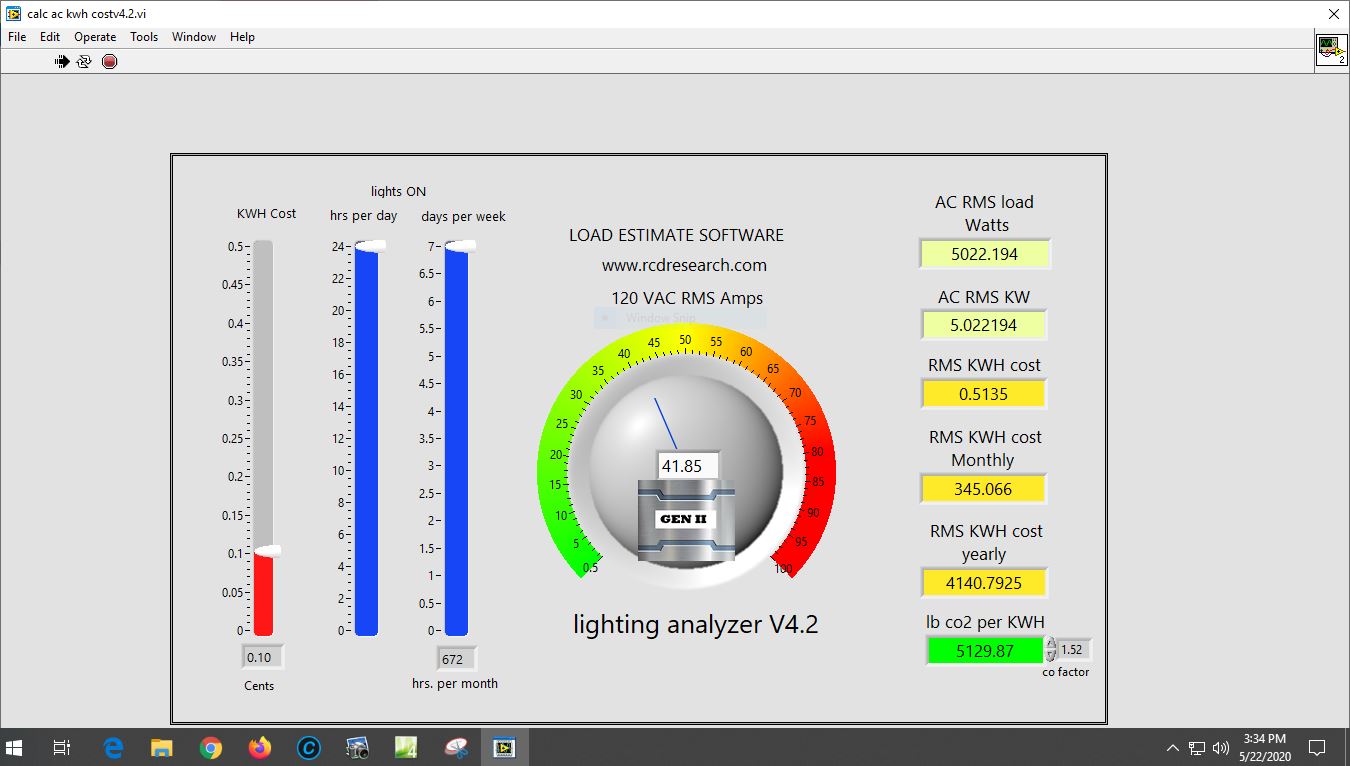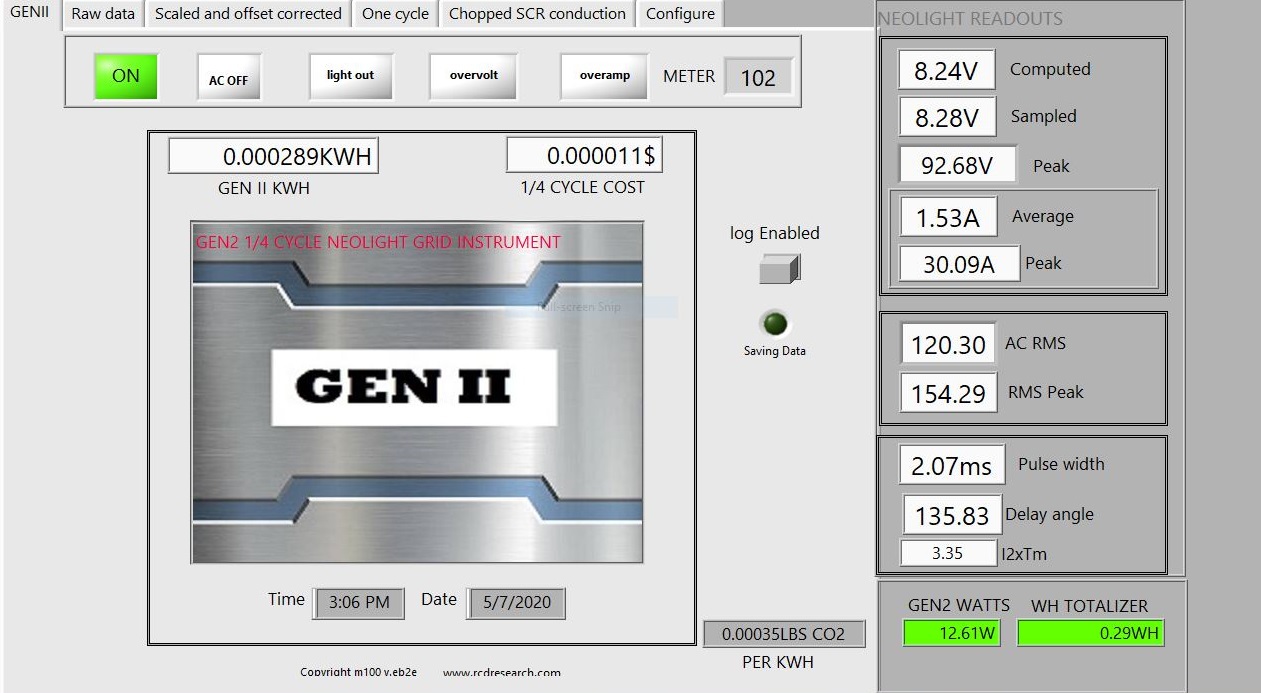 ---
SIMULATORS COMPUTE CREDITABLE GAINS IN CARBON, KWH, COST EFFCIENCY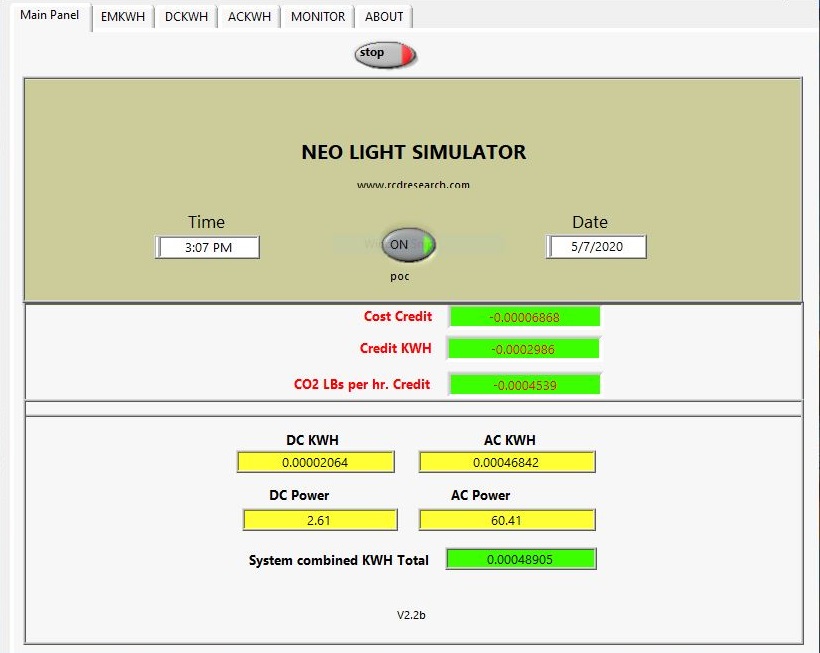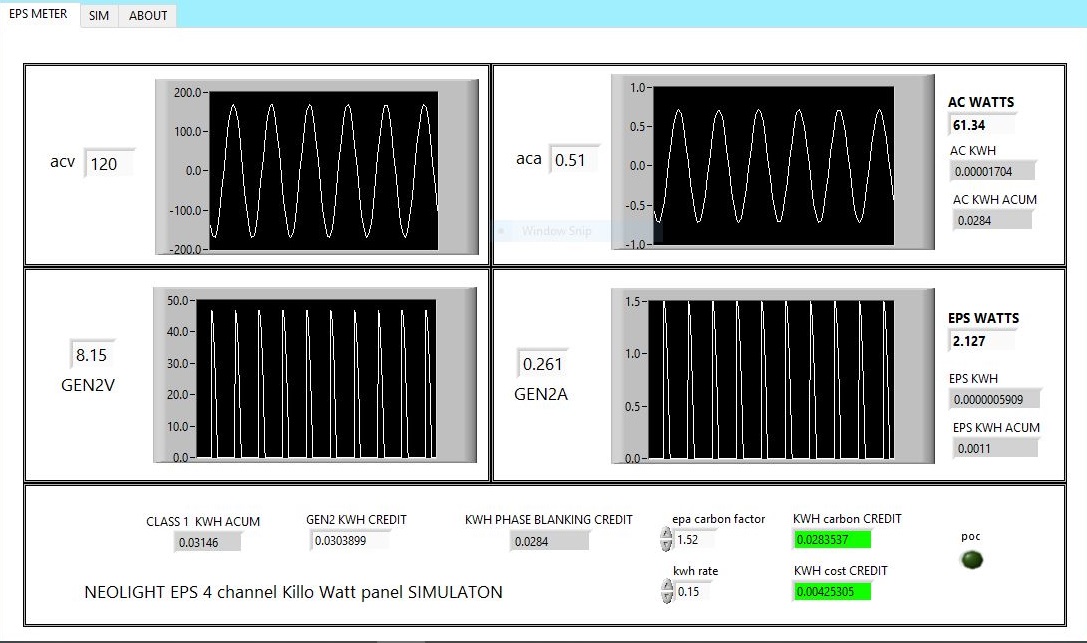 ---
DOWNLOAD GEN II Neolight DOCUMENTS
---
GEN2 ENERGY RECOVERY METHOD - certification white paper
Reprint of Popular Electronics magazine April 1997
Lower your lighting bill by 90%
Advance Power System ORIGINAL CONCEPT DISCLOSURE
RMS theory and measurement techniques
EPS and neoilight cost reduction
ROSENBERG QUANTUM CYCLE WHITE PAPER
Quantum EPS micro-grid building management
---
GEN II Neolight is available for licensing and general contracting services
Protected by USS patent and copyright law.
CONTACT:
Email: stevenronline@gmail.com
Contact: 623-238-3991
President S. Rosenberg BSc
mailto:SALES@RCDRESEARCH.COM
ABOUT the Author, President and Founder GENII
American University, Graduated Cum Laude
Chub Institute, Kean College PBM Computer Science,
NJTRO INFRASTRUCTURE Engineering Dept. (ret.) 30 YEARS + EXPERIENCE
Awarded two USS Patents and 3 copyrights